Turkey in the late 80s saw the release of the most iconic set of bootleg figures. SB PRODUCTS line of figures, more commonly known as "Uzay" which appears in the header for the cardback and is Turkish for Space. Also part of the cardback logo is the Turkish word "Savascilari" which translated means Wars The full name of the line being "Uzay Savascilari" Or "Space Wars".Now, on to proper pronunciation for our non Turkish speaking Uzay fans! Most phonetically pronounce it "You-Zay", the correct way to say it is "Ooo-Zai" Savascilari on the other hand is pronounced " Sa-vash-chih-l-ruh"
According to Turkish sources,the SB Products Uzay figures were sold in small stores, bodegas,and markets throughout Turkey , as opposed to the larger department stores, where you could find Kenner figures for about 3 to 4x the price of their Turkish made counterparts.
As far as bootleg figures are concerned when it comes to manufacture and materials Uzay figures are the best made, and come closest to their Kenner licensed counterparts than any other bootleg figures. Not to mention that they also have the best card art of any bootleg line, which is surely one of the biggest draws when it comes to the lasting appeal to collectors. There 14 different figures with several figure and packaging, paint,and weapon variations in the line.
You'll notice that the figures are given slightly off names for the sake of avoiding copyright issues.Also interesting and odd as well, for the first 6 figures in the line, SB Products gave them loose translations of the characters names in Turkish. These names will be translated to English in our journey. If you choose to collect Uzay figures, loose or carded, be prepared for a journey that will consume large amounts of both your time and money. Here is a view of the line in about as complete of form as you'll ever see.
Uzay 001 Stormtroper (asker)
"Asker" translates to Soldier
Carded:
Solid bands:
Solid armband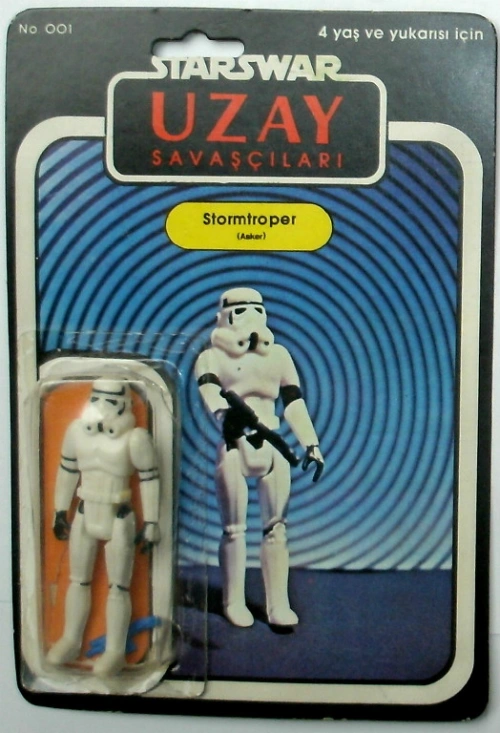 Striped Armband
loose variations:
Solid armband,painted legs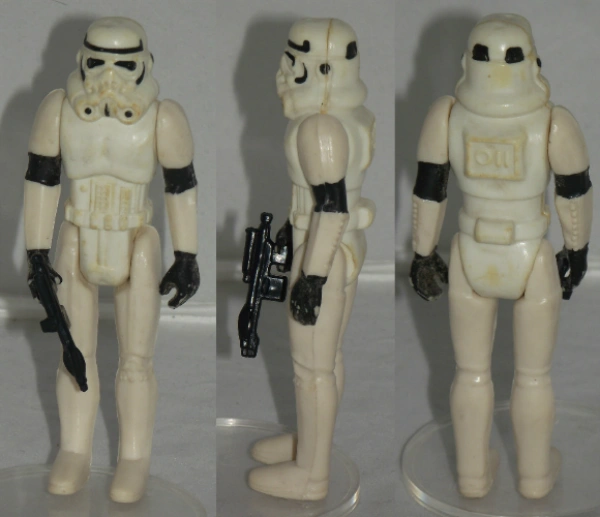 Solid armband,unpainted legs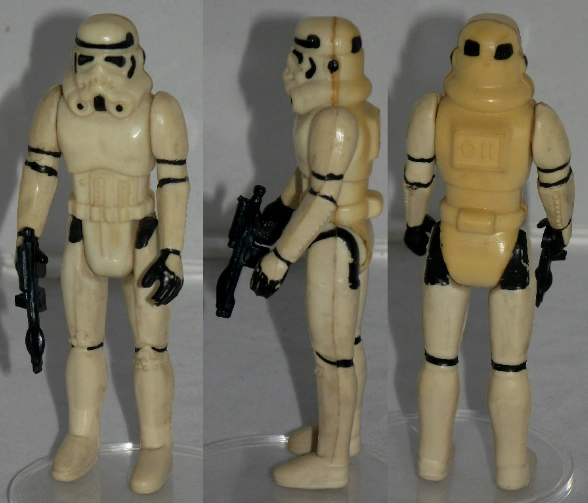 Striped armband, painted legs
Weapon variations:

Black
Blue
Mold:
Torso
Limbs
Uzay 002 Imperial Stormtoper(imparatorlugun askeri)
"Imperatorlugun Askeri" translates to "The Emperors soldier"
Carded:
Loose variations: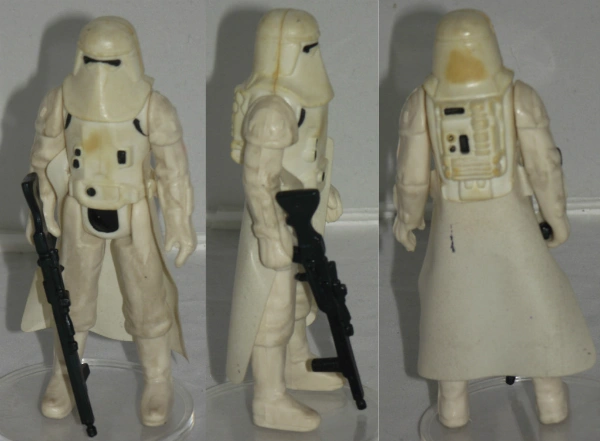 Painted waist
Unpainted waist
Weapon Variations:

Black
Blue
Mold, same mold as used for Blue Stars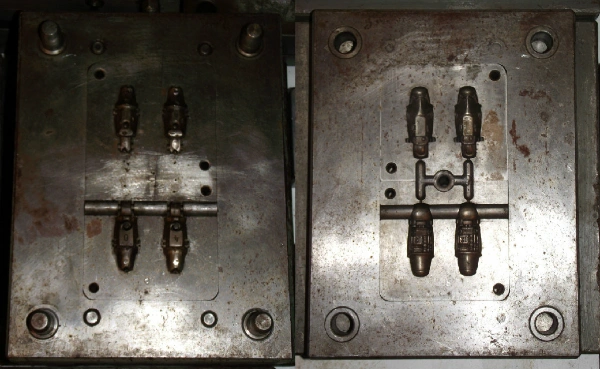 Torso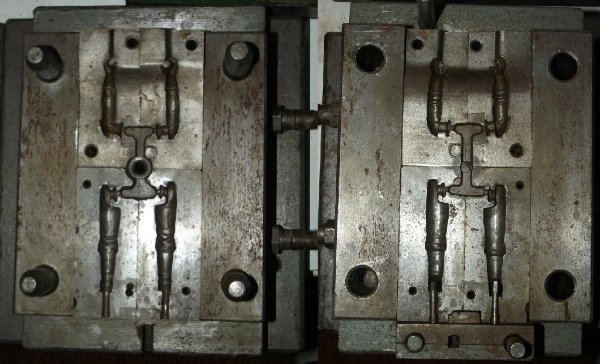 Limbs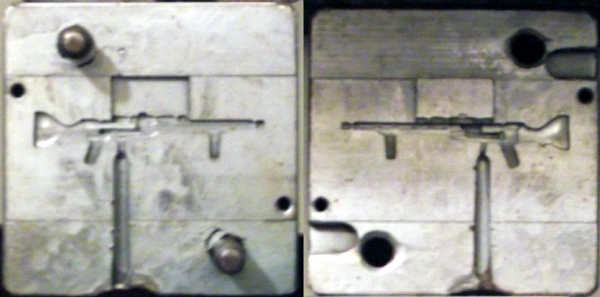 Weapon
Uzay 003 AT-Driver (surucu)
"Surucu" translates to "Driver"
carded: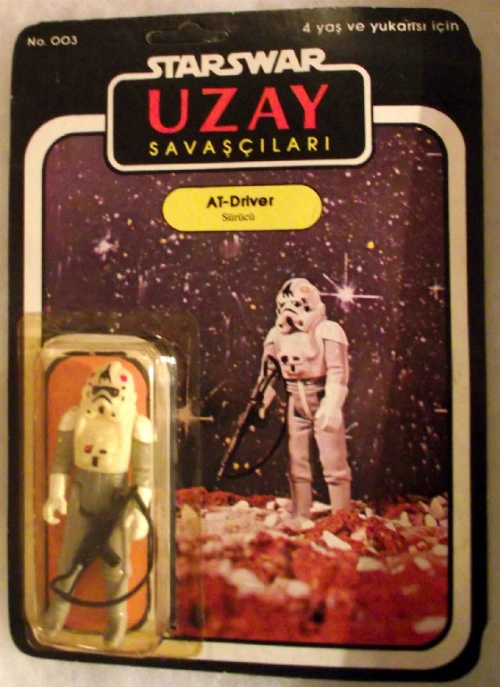 Gold Rocks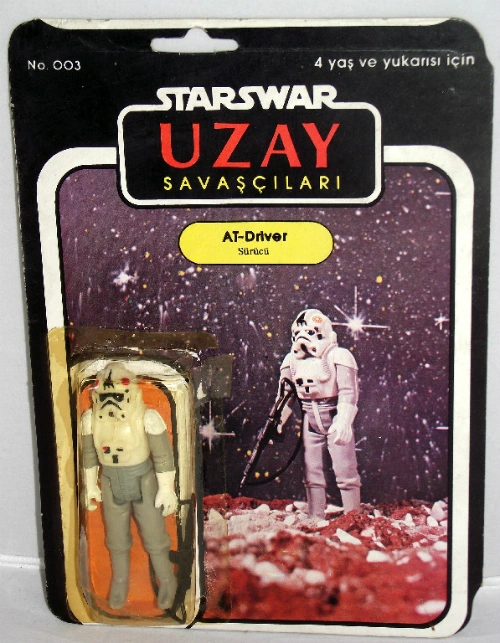 Silver Rocks
Loose: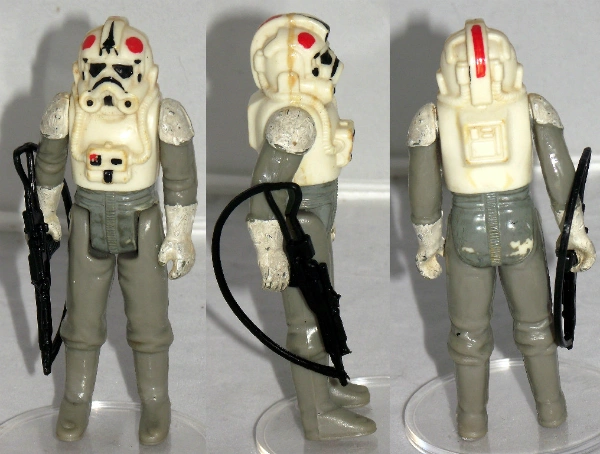 Weapon:

Mold:
Torso
Limbs
Rifle
Uzay 004 Darth Vader (Kira Lider)
"Kara Lider" translates to "The Dark Leader"
Carded:
No dot on chest
Dot on chest.
Loose, both variations: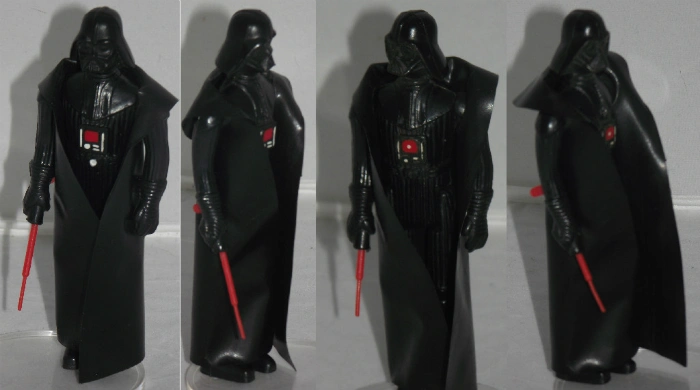 Saber:
Mold: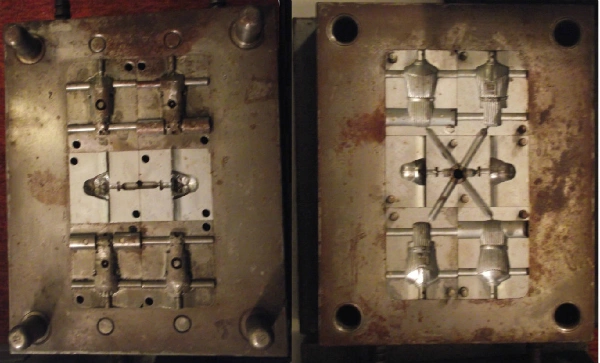 Head and torso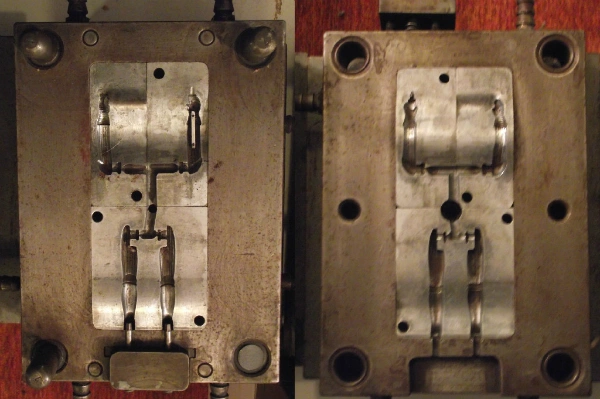 Limbs
Uzay 005 Chewbacca (aslan adam)
"Aslan Adam" translates to "Lion Man"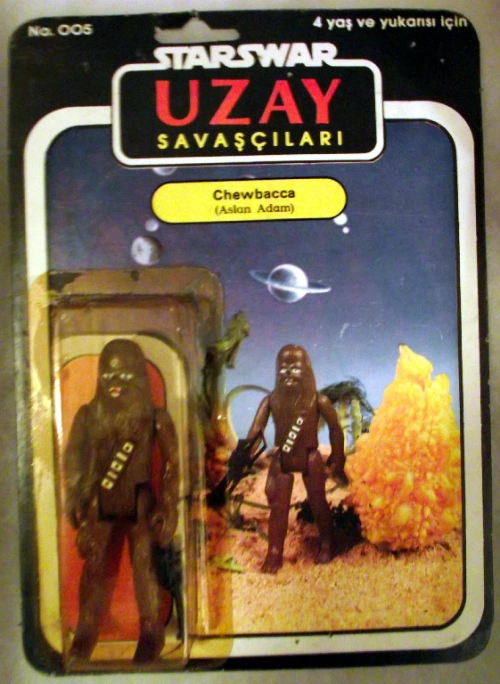 Gourd Card
Uzay 005 Chewbacca (maymun adam)
"Maymun Adam" translates to "Monkey Man"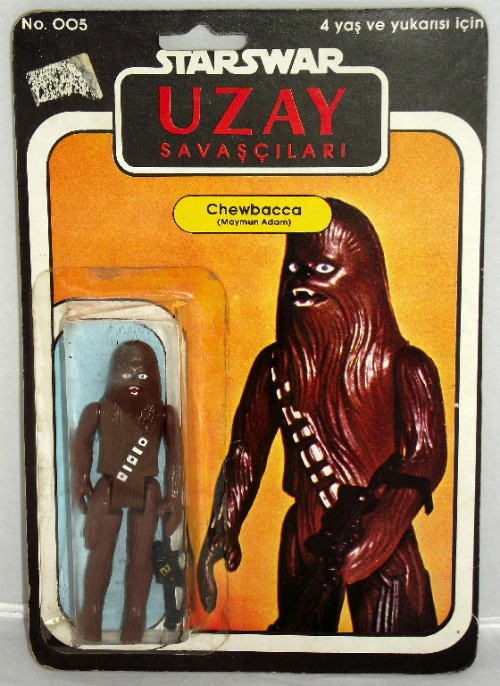 Close up card
Loose: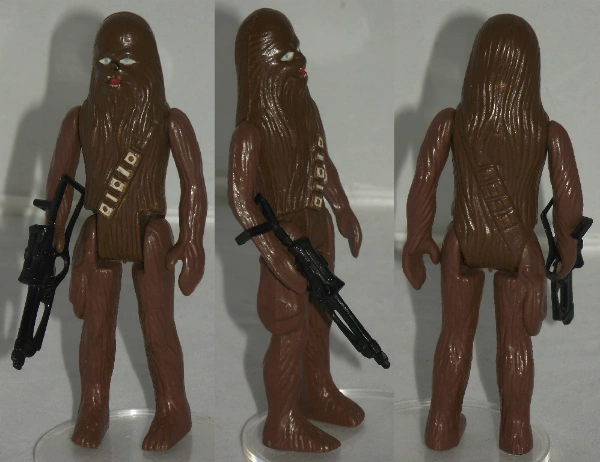 Weapon:

Mold: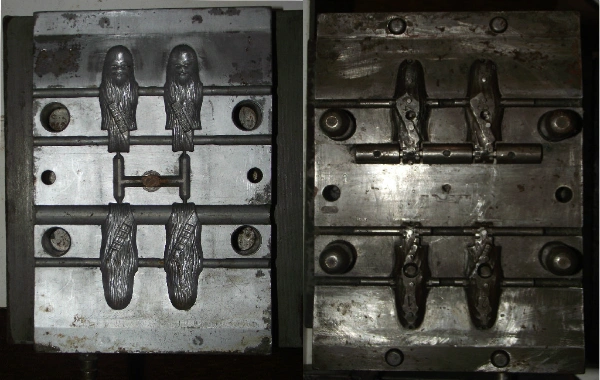 Torso
Limbs
Bowcaster
Uzay 006 Imperial T E Fighter Pilot (savas pilotu)
"Savas Polotu" translates to "War Pilot"
Carded: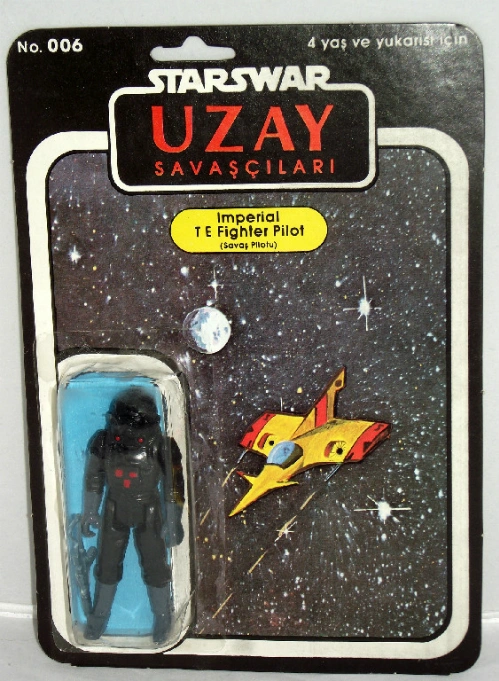 Dark boots
Unpainted boots
Loose:
Light gray boots/gloves
Dark gray boots
Weapons:
Long gun black

Short gun black
Short gun gray
Mold is same mold as was used for At-At Driver.
Uzay 007 See- Threep (C.PO.)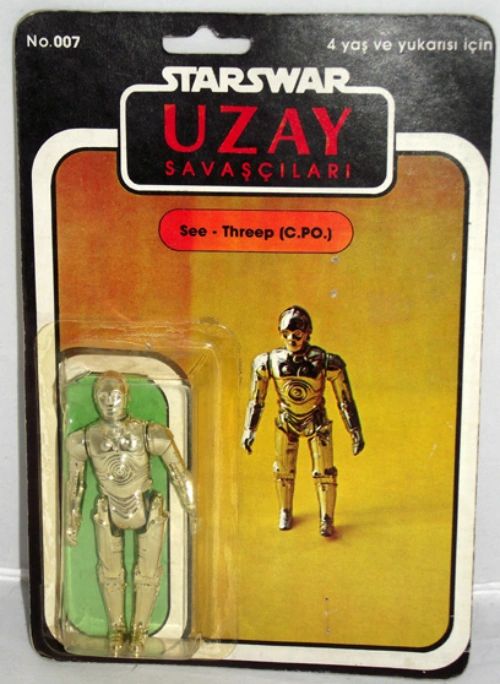 no text on card version
07 See-Threep (C.Po.) Note the number change on top of card from 007 to 07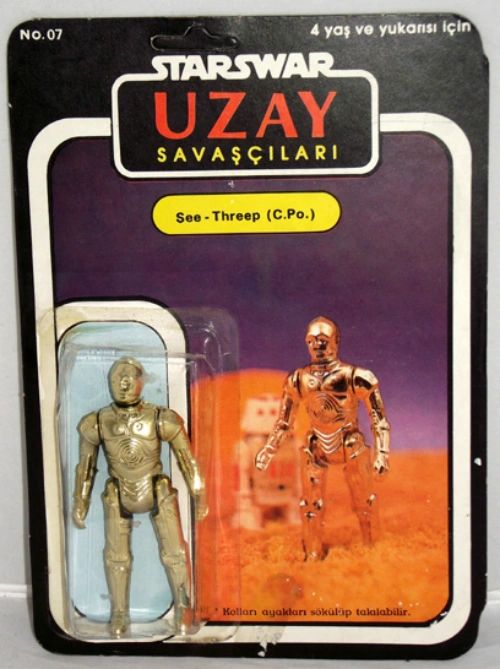 Text and R5 picture
Text close up:
"kollari ayaklari sokulup takilabilir" translates to "Arms and legs can be removed" All Uzay C-3PO'S and Death Star
Droid figures have removable limbs.
Loose: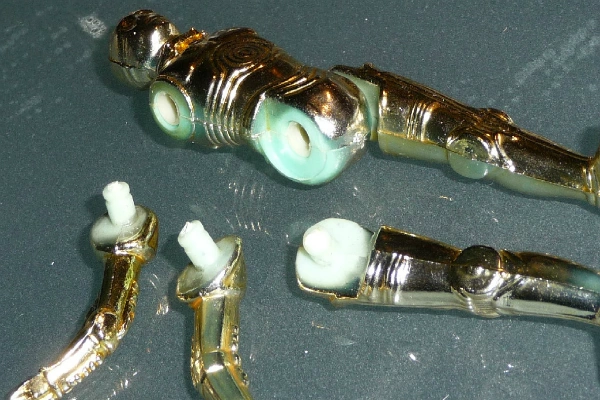 Limbs off
Uzay 008 Death Star Droid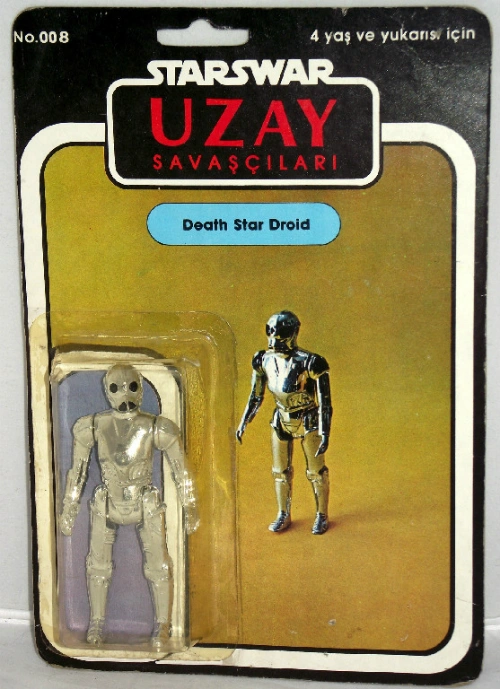 Loose:
Mold for both C-3PO and Death Star Droid:
Torso
Limbs
Uzay 009 Blue Stars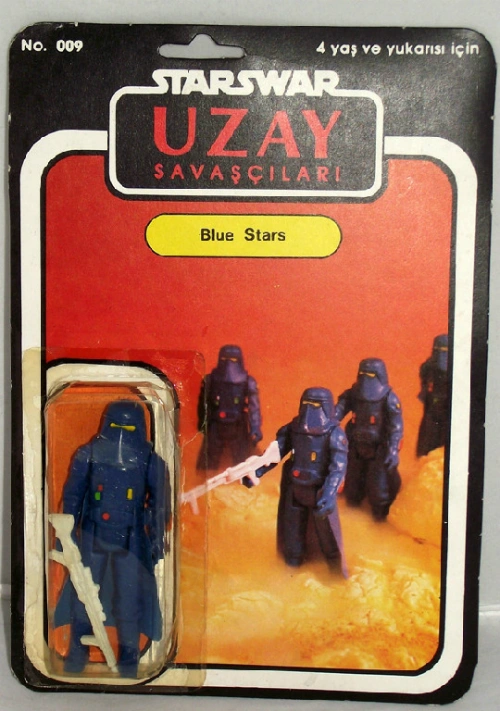 Loose: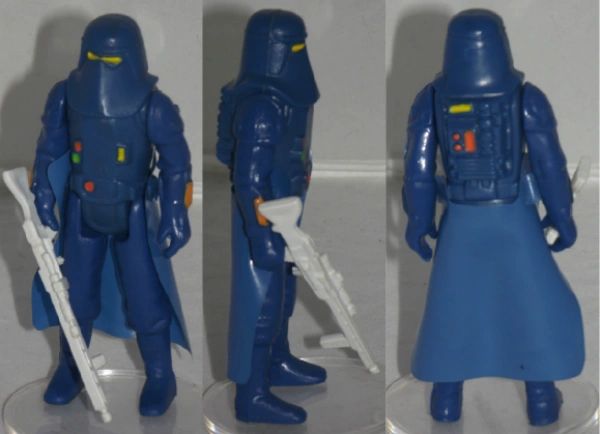 Weapon:
Same mold is used for Hoth Stormtrooper (mold shown above)
Uzay 0010 Emperor's Royal Guard
Dark red cape
Light cape
010 - Note the change of the number on top of the card from 0010 to 010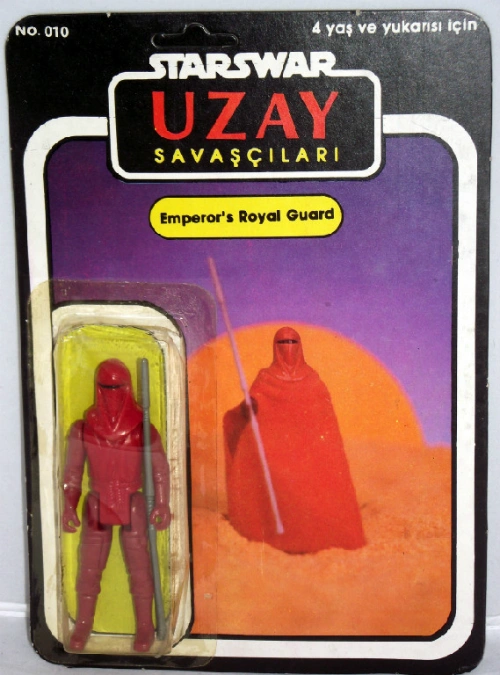 No cape
Loose:
Dark cape.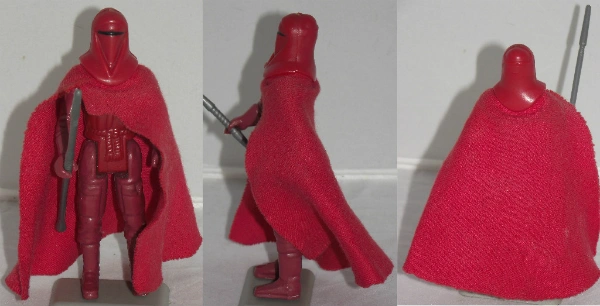 Light Cape
No cape
Staff:

Mold: Same mold for Head Man as ERG
Head and torso
Limbs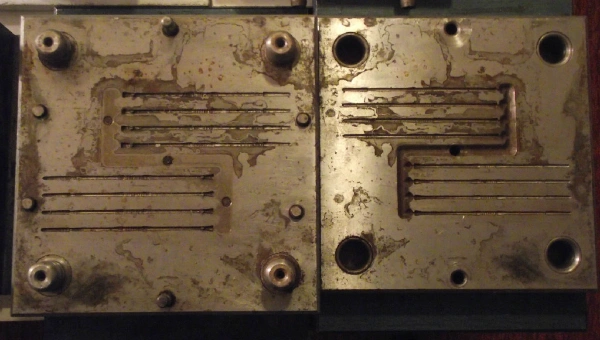 Staff mold
Uzay 011 Imperial Gunner
Tan backer
Green background
Loose:
Weapon variations, same as Stormtrooper, blue and black Imperial blaster.
Mold: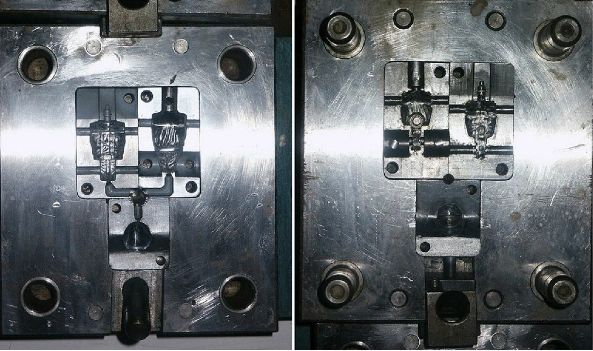 Head and torso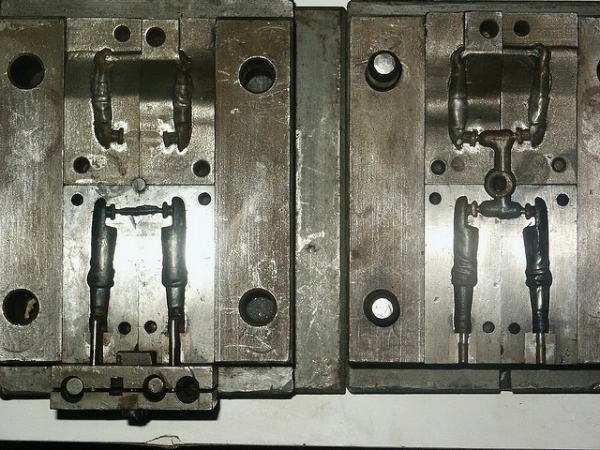 Limbs
Uzay 012 Arfive Defour (R2-D4)
Here's another R5, with a printing error:
Printing error
Text from bottom of card:

" kafadan hareket ve klik klik seslidir" translates to "move the head and make a click click sound"
Loose:
Mold: Same mold for both R5 and R2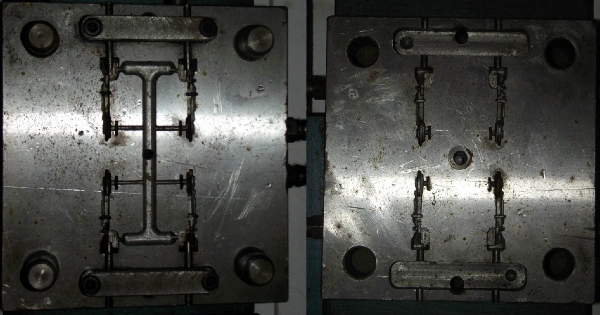 Uzay 013 Head Man
Carded:
Loose: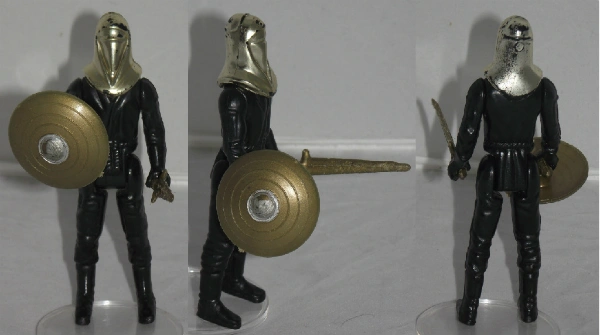 Mold, is the same as the Emperors Royal Guard mold already shown.
Weapon variations: Silver shield, Gold shield with and w.o silver in center, and Gold and silver sword variations exist.
Due to the rarity of the sword, I'm only showing it in the hand of the figure, and not on it's own,for the sake of keeping
some details from being easily replicated.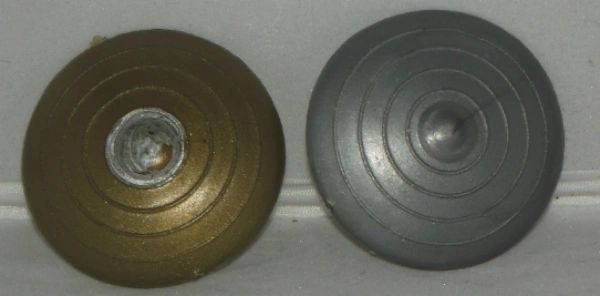 Uzay 014 Artoo Detoo (R2-D2)
Close up of text:

" kafadan hareket ve seslidir" translates to "move the head and make a sound"
Loose:

Saber: White and gray variants exist...
ALL carded Uzay figures have the same cardback: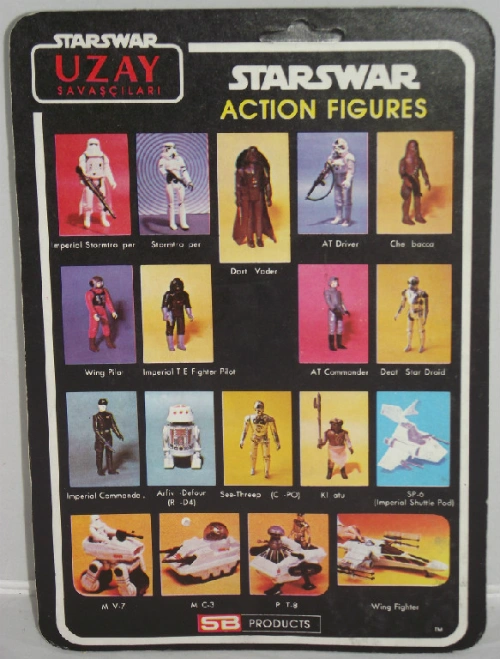 Boot variations are found on many Uzay figures,including Blue Stars/Hoth Stormtrooper, and ERG/Headman as the extra plastic from the mold was either left on, creating a platform boot looking foot, or cut to make them look "normal".

The Uzay line ALSO had 2 mini rig vehicles in the line:
MTV-7:

Loose:

Instructions and stickers:
MLC-3
Loose:
Instructions and stickers:
Special thanks to Mete Akin for the translations and proper pronunciations, as well as some photos. Also thanks to Daren Wilde, Dylan, Wolff, and Trevor Wencl for additional pictures.

If you are interested in collecting Uzay figures, a few rules to live by:

1. Don't be mister mint, you never know when or if the opportunity to find another one of any figure may arise.

2. Don't be cheap, this is the most expensive line of SW items to collect, licensed or unlicensed, be ready to open your wallet, esp if collecting carded examples.

3. Be patient, you're likely not going to complete this set in a year, if immediate gratification is your thing, then collecting Uzay figures is NOT the line for you.

If anyone has any additional questions or information that may have been missed, please feel free to contact me at: jyx1138@aol.com Thanks for reading, and happy hunting.